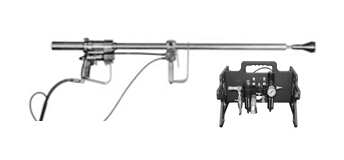 The Right Tool for the Most Demanding
Surface Preparation Job!
The "flagship" for the Salotech line of UHP Surface Preparation Tools, the Vulcan Stripper has
seen many years of dependable, continuous service in a wide range of industrial settings and
circumstances. The Vulcan Stripper delivers the power to clean the most difficult surfaces down
to clean metal quickly and cost effectively using a minimum amount of water.
Operation of the Vulcan Stripper will require an air operated Multi-Mode Control Valve.
Ultra-High Pressure Water Jetting
produces a white metal surface standard
equal to NACE No. 5/SSPC-SP12.
Major paint and coatings manufacturers
have developed lines of coatings specifically
for ultra-high waterblasted surfaces.
High pressure waterjetting is not only
economical, but with so many environmental
advantages it is swiftly becoming the
preferred process for coating removal by
many major industries.
The product description
Weight: 11 LBS. (4.89 KG)
Speed: 3000 RPM
The biggest gas supply pressure: 22 CFM
Maximum flow than: 7 GPM (LPM) 26
Power: 0.75 HP (0.56 KW)
Optional roll length:
13 "(330 mm) 18" (457 mm), 22 "(559 mm)
24 "(609 mm) 36" (609 mm) 48 "(1219 mm)
Equipped with multi-function mixer (working pressure of 2800 bar)